Arena Magasin X
Uppsala, Sweden
by White Arkitekter for Vasakronan
Magasin X in Uppsala, Sweden takes large-scale construction to new levels of sustainability. The office building, with its solid wood frame, is the country's largest wooden office building. Framed by slate, generously proportioned windows let daylight deep into the offices. On the most sunlit façades, windows are separated by solar panels that generate shade as well as electricity. The panels' dimensions optimize the placement of solar cells to avoid «dead» (inactive) areas, and the frosted glass surface smoothens the ap-pearance. Aligning them to the colour and texture of the surroun-ding materials. The modern wood construction, along with the slate and solar cells on the roof and façade, contribute to a buil-ding with an impressively-low carbon impact.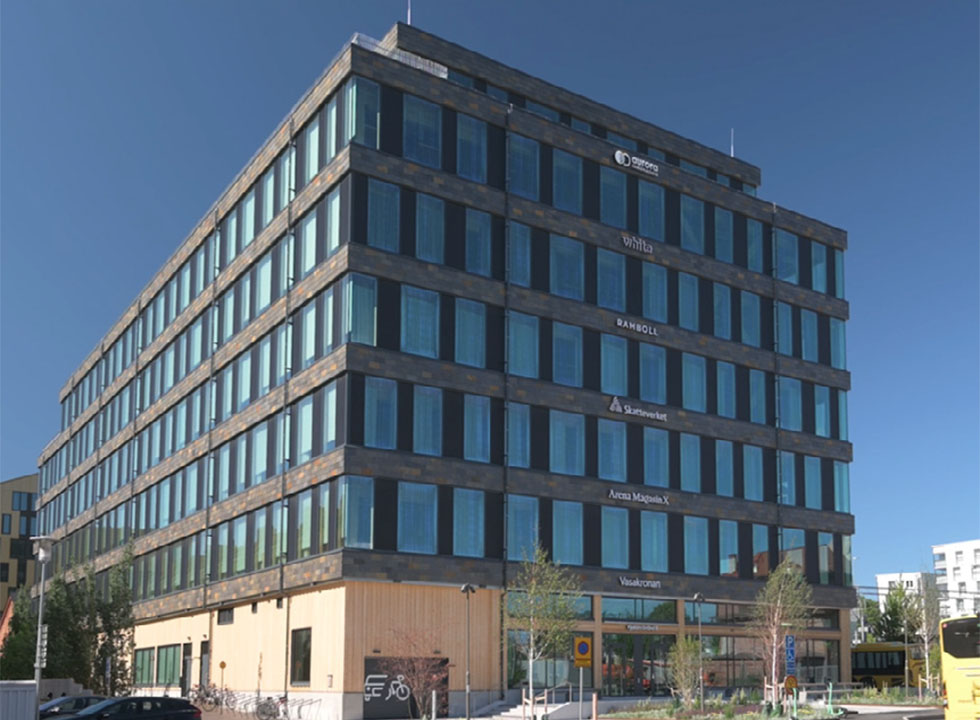 Queens Ingrid's garden
Oslo, Norway
by Oslobygg KF
Ingrid's Garden is an innovative garden-town whose main focus is to let individuals with cognitive impairment the opportunity to live as normally as possible within a safe framework. Oslobygg KF is a leader in the development, construction and management of energy-efficient buildings with optimal environmental profiles and Queen Ingrid's Garden is no exception: the emphasis is on innovative and suitable applications of welfare and smart home technology, using a dense climate shell and good technical facili-ties in combination with highly efficient energy wells. The building is adapted for local energy production, with solar cells on roofs in combination with Sedum plants, a gable roof and Oslobygg's solar cell initiative along with the EPoG panels received through the EU Be-Smart initiative.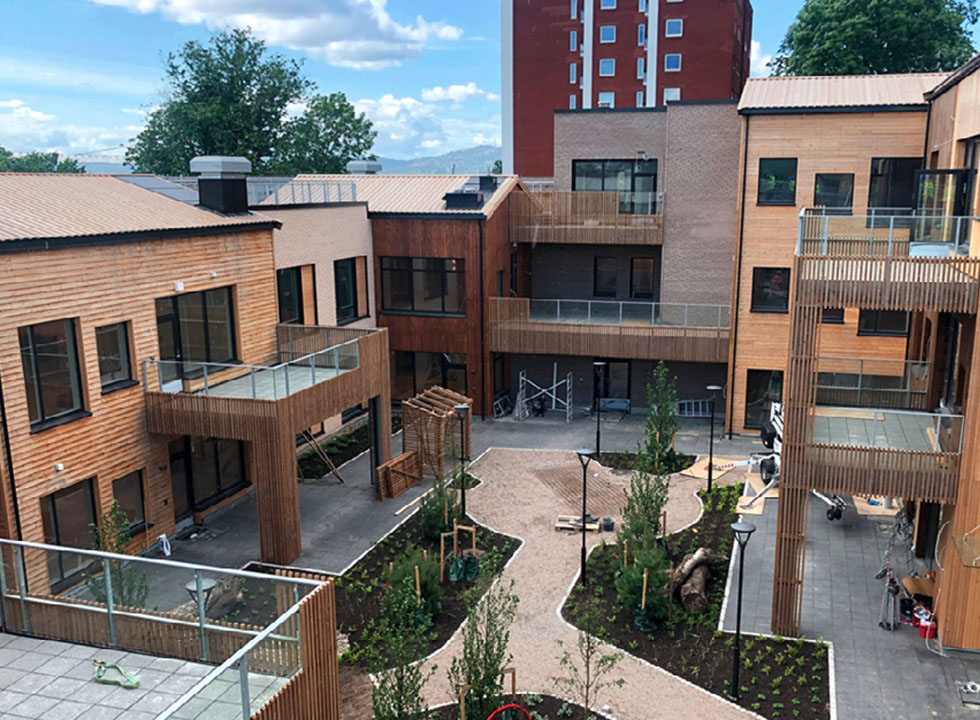 Migros Marin Centre
Neuchâtel, Switzerland
by Immoroc
Integrate on an existing building, black and white solar panels into an impressive 300 square metre mural, demonstrates the great capacities of EPoG technologies and design to complement the architecture. The black metallic aluminium panel façade has been turn into EPoG power station.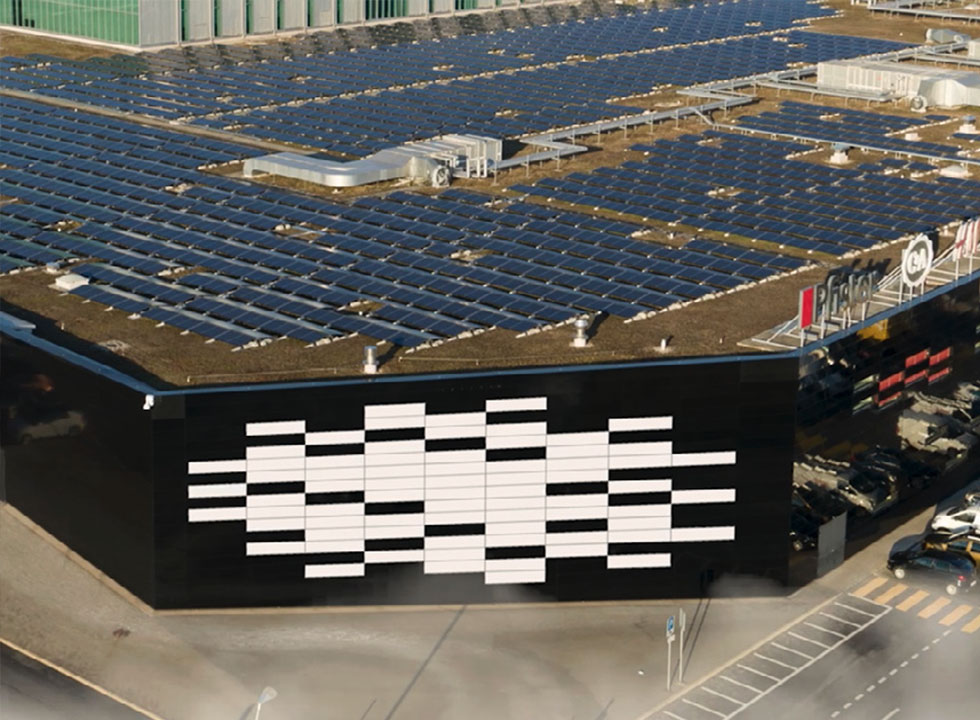 Figli del Sole
Oliveri, Italy
Art-Science Exhibition
at EPFL Pavilions by Compáz
Figli del Sole (Children of the Sun) is a permanent exhibition in the community of Oliveri, Sicily, displaying portraits of local residents, which are intriguingly integrated onto photovoltaic panels and dis-played in a public park in Oliveri. The subjects – men, women, and children of the community – reflect the diversity of Oliveri, which is part of the Sicilian city of Messina. The technology behind this ex-hibition is the result of four years of development advanced by the consortium and its partners, which created different techniques to add striking aesthetics to the solar panels. Thanks to these inno-vations, solar technologies can now be artfully integrated into the façades of buildings or displayed on the streets. The exhibition also fulfils an essential role as a test platform for these innovative technologies, in particular conditions of the Mediterranean basin under high temperature, humidity and air salinity.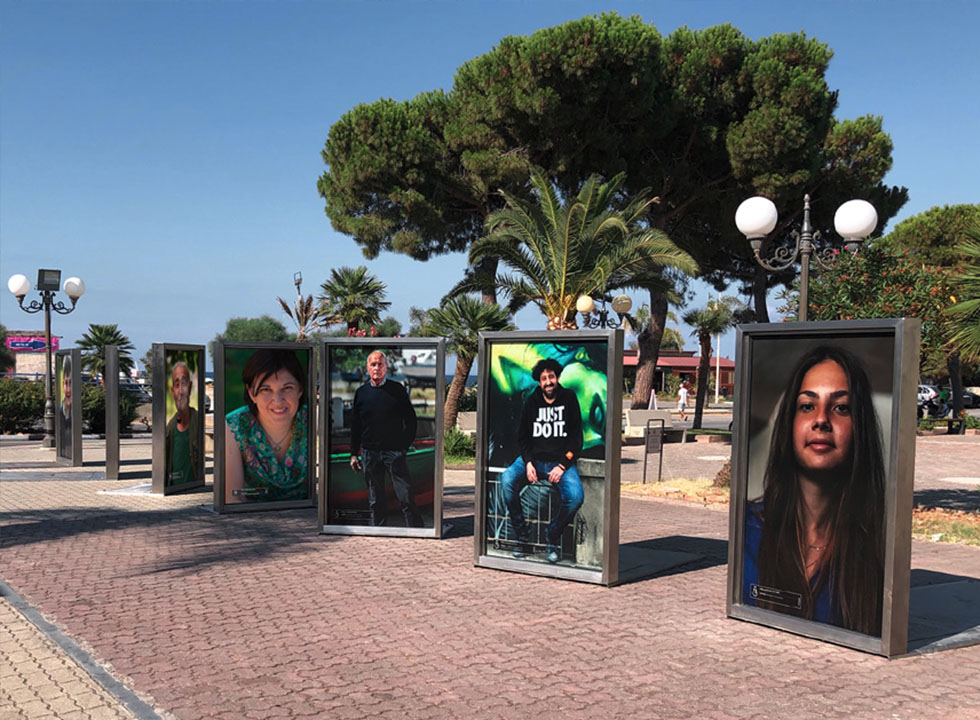 Watt is Art
Lausanne, Switzerland
Art-Science Exhibition
at EPFL Pavilions by Compáz
Pavilions Visitors to the Watt is Art Exhibition are introduced to the concept of using energy-positive glazing (EPoG) in the construc-tion of new buildings. These innovative photovoltaic solar panels offer some of the essential qualities – like soundproofing and in-sulation – associated with traditional building materials but they are also aesthetically compelling. With almost unlimited design possibilities, energy-positive glazing gives architects and builders a broad palette and allows them to match their projects to the en-vironment. And, of course, they also produce energy. The displays and presentations at the Exhibition are compelling but real-world examples demonstrate the EPoG concept vividly.