A new way of living for people with dementia in Oslo
Queens Ingrid's
garden
Oslo, Norway

The concept will facilitate increased quality of life by allowing residents to use their individual resources, where they can move freely, in a safe environment.
Social purpose
Oslobygg KF has chosen to create a so-called garden city, which ensures a good and dignified life for the residents with dementia and Alzheimer's deficiencies. The surroundings should create a better basis for the use of senses and memories from life. A life, where there is room to acknowledge the memories that the residents carry with them and that they cherish. Therefore, the project is also to a large extent adapted to those people who get their daily life in the garden village, and who should feel at home here. The garden city will have, among other things, a restaurant, café, cultural hall, shop, hairdressing and foot care salon. This also offers activities and opportunities for the integration of neighborhoods and the local environment. The goal is to draw city life all the way into the garden city, for the benefit of both residents and visitors.
For employees, this is also a completely different way of working with people with dementia. They become part of each other's everyday lives, they support and help the residents in their daily lives, and they do something together.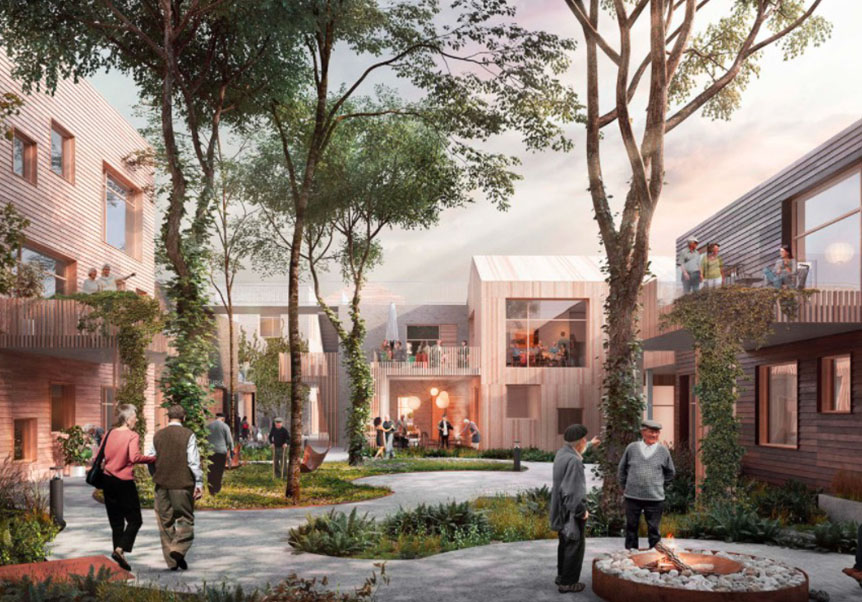 Programm
We want to make room to combine the safe and the homely, with openness to the world outside the garden city. We will facilitate open common meeting places with room for interaction and good relations. Queen Ingrid's garden will be a garden city that invites openness; between the residents and the staff, between the visitors and the residents, and between those with mild cognitive impairment and those with more advanced dementia. A person with dementia can live a good everyday life with socializing, garden walks and activities, if the conditions are well adapted.
The jury writes:
«The project is well solved and has many qualities that testify to a good understanding of the task. The project has a clear shape and clean lines. The entrance hall has a refined expression and invites visitors in. Likewise, the restaurant advertises its presence in a nice way. As the only project, a solution with step-free access between the two external levels has been shown. Blomsterkleiva is a great addition that adds character to the project. The various outdoor spaces are given a distinct character that sets them apart.»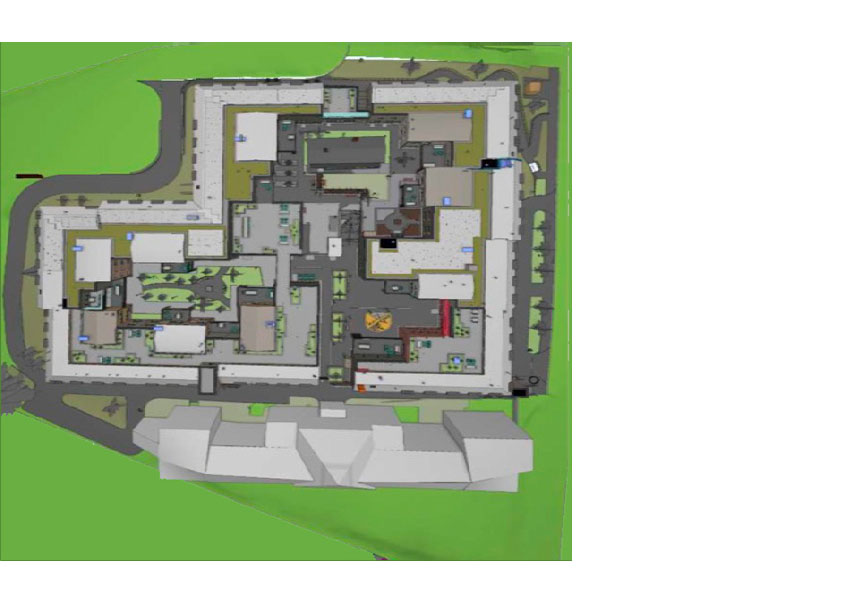 Project
The project will be completed in late autumn 2022, with a cost framework of NOK 500 million. There will be self-production of energy through solar panels on the roof, as well as stormwater management using flat sedum roofs. The building, like all projects in Oslobygg KF, has high sustainable profile and will be as well BREEAM- NOR certified. Queen Ingrid's garden will room 130 nursing home places with a usable area of approx. 16,700 m2 livable space.

270 Design panels

118 Sedum roof


244 High performance panels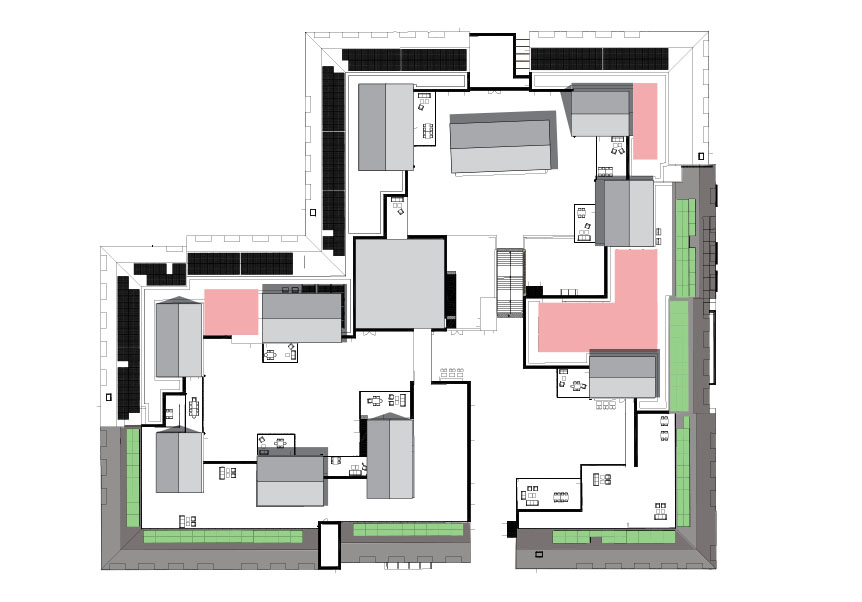 Roof Design & Performance
Oslobygg KF has high energy and environmental ambitions to be a leader in the development, construction and management of environmentally friendly and energy efficient buildings. Queen Ingrid's garden is no exception, where emphasis will be placed on innovative and appropriate solutions for welfare and smart home technology, while solutions for local energy production must be designed and implemented in the project. The maximum limit for calculated delivered energy (according to Norwegian Standard 3031) must not be higher than 70 kWh/m2. For a traditional nursing home, this corresponds to a considerable energy reduction and a major focus on both energy-saving solutions and efficient energy production. This has been solved with a tight climate shell and good technical facilities in combination with highly efficient energy sources. At the same time, the building is designed for local energy production, where solar cells are installed in a combination with sedum solution, salt roof and additional own solar cell initiative with Be-Smart European project.