White arkitekter and Vasakronan are building the first large multi-tenant-office a fully wooden structure.
With 16 600 m² surface, the office building will be Sweden's largest office building in wood.
Magasin X takes large scale construction to new levels of sustainability. The building will be LEED Platinum certified. This entails extremely effective energy systems and innovative solutions.

The goal is to create a building with the smallest possible climate impact. As the actual construction process accounts for a very large portion of a project's climate impact, it is important to ensure the building's longevity.
Sustainability
LEED Platinum by far
Energy consumption 20 kWh/m²/year, largely produced in the house
4300 m³ wood in the structure
Gluelam in window profiles. 5,5 km of aluminium profiles are avoided
Flexibility and sutainability is created through good architecture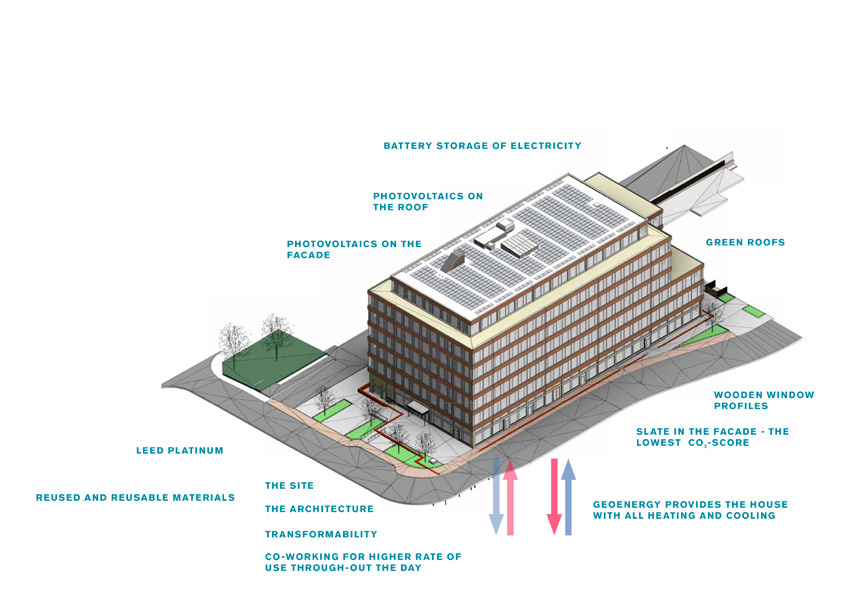 Structure
All the loadbearing structure above ground is wood.
The structure is stabilized by elevator shafts and emergency stairs in CLT and large crosses in the facade.
Facade
Avoids exposed wood except in ground level. For a natural variation, low maintainence and lowest possible envinonmental impact the facade is covered in slate from Norway. The rusting iron ore in the slate gives a variation in different lights and weathers.
The southern sides has 40 % photovoltaic cells to gain the energy that otherwise would have created too much heat inside.